Portfolio of

Anne Obel
---

Hi I'm Anne, an audio creative that's passionate about storytelling and great audio.

I thrive on telling better stories and using audio content to create empathy and intrigue. While providing my multidisciplinary skills to lead people and creating structure and belonging to my teams. Also a huge coffee nerd and a jazz guitarist.

Currently working at Third Ear Studio as a audio engineer with mixing and mastering our podcasts, as well as music production and sound design for our original shows.

Also making original music compositions in my home studio.

Email me, or check out my LinkedIn.
Birth of Living Code - Podcast
Birth of Living Code was a podcast project I was making from mid 2019 until end of 2020.
It was about the intersection between the human condition and the digital world. It explored questions like, 'Can a Tamagotchi be alive?', 'Is machine learning racist?', 'What happens to our digital archives, and how will that influence future digital archaeologists?'.
The podcast was made completely entirely independent by me.
---
Each story started out with a single intriguing topic or interview, where I would dig deeper and deeper, and more questions would appear from each stone turned along the way.
Eventually the research would be pieced together into one big story, where I would write a story arc in order to create a continuously evolving narrative.
---
After scripting and editing interviews, I would write an original score for each story, and create sound design for specific moments in the story. Every asset, from sound design and music made in Ableton Live, to graphic design made in Illustrator, to editing and mastering in Pro Tools, was made from my laptop, in my apartment in Aspudden, Stockholm.
Link to listen to the episode here!
The final episode is about the digital archive we leave behind on social media, and how Facebook is a threat to how we write world history.
I got to interview a coding artist, that made a chatbot of herself from Facebook messenger data - a data privacy expert from Facebook, on how they're using our personal data to tell a narrative about us - two doctoral candidates from Oxford university, on how archeologists will look back on our current age - as well as look into how a museum from my hometown, is doing a project for alzheimers patients.
H&M Research Project - School Project at Hyper Island
During the first semester at Hyper Island we received a brief from H&M Group to present a digital solution or service that creates long lasting engagement with women age 16-22.
I worked in a team of 4, and I greatly focused on research and creating empathy with the target audience.
---
After debriefing and doing a team development session, we ventured out to the streets to perform guerrilla style research interviews to quickly gain insights and understanding of our intended audience.
We asked questions like; "What brands are you currently wearing?", "What do you like about said brand?", "Do you feel like you trust this brand, why or why not?".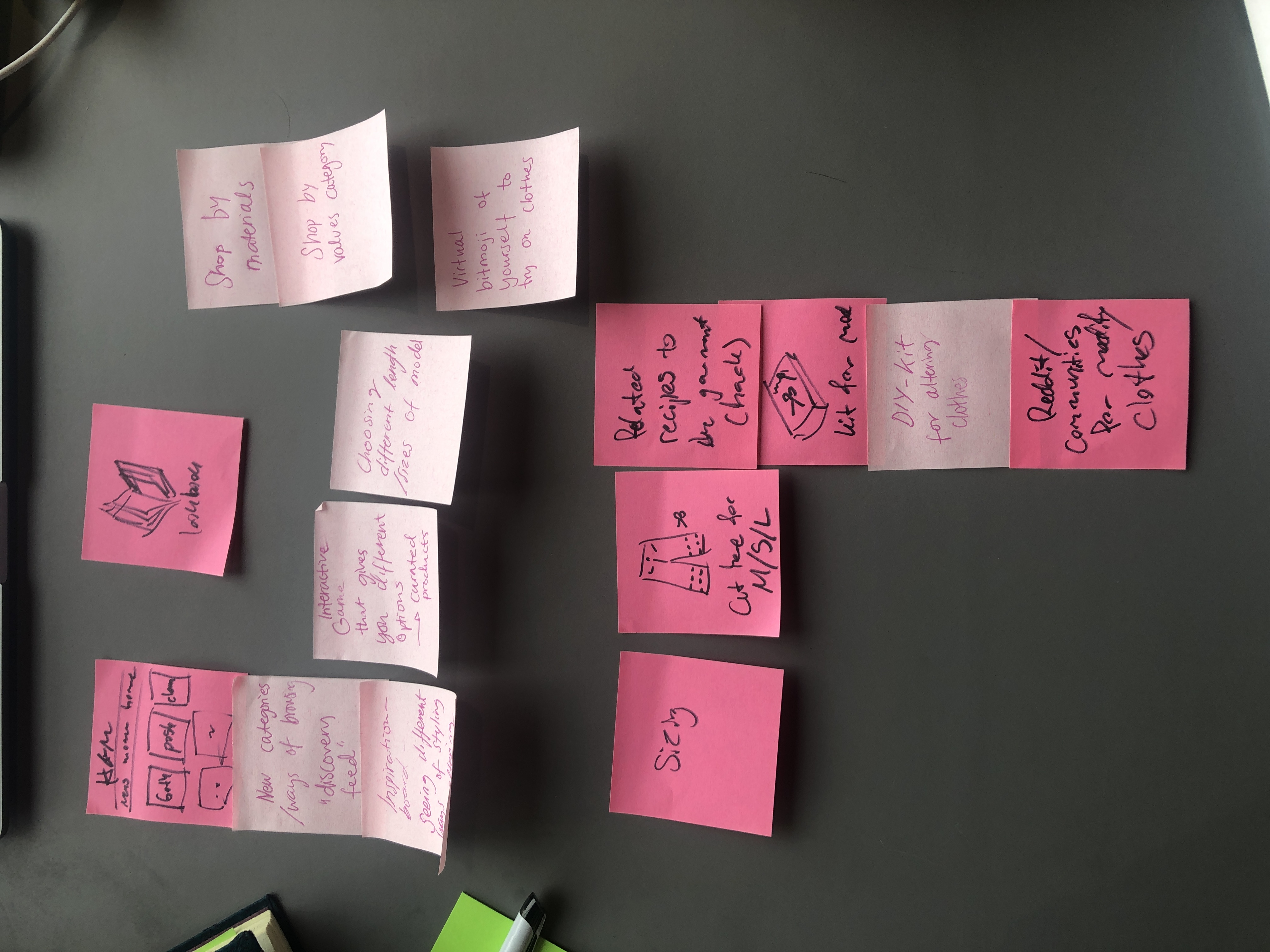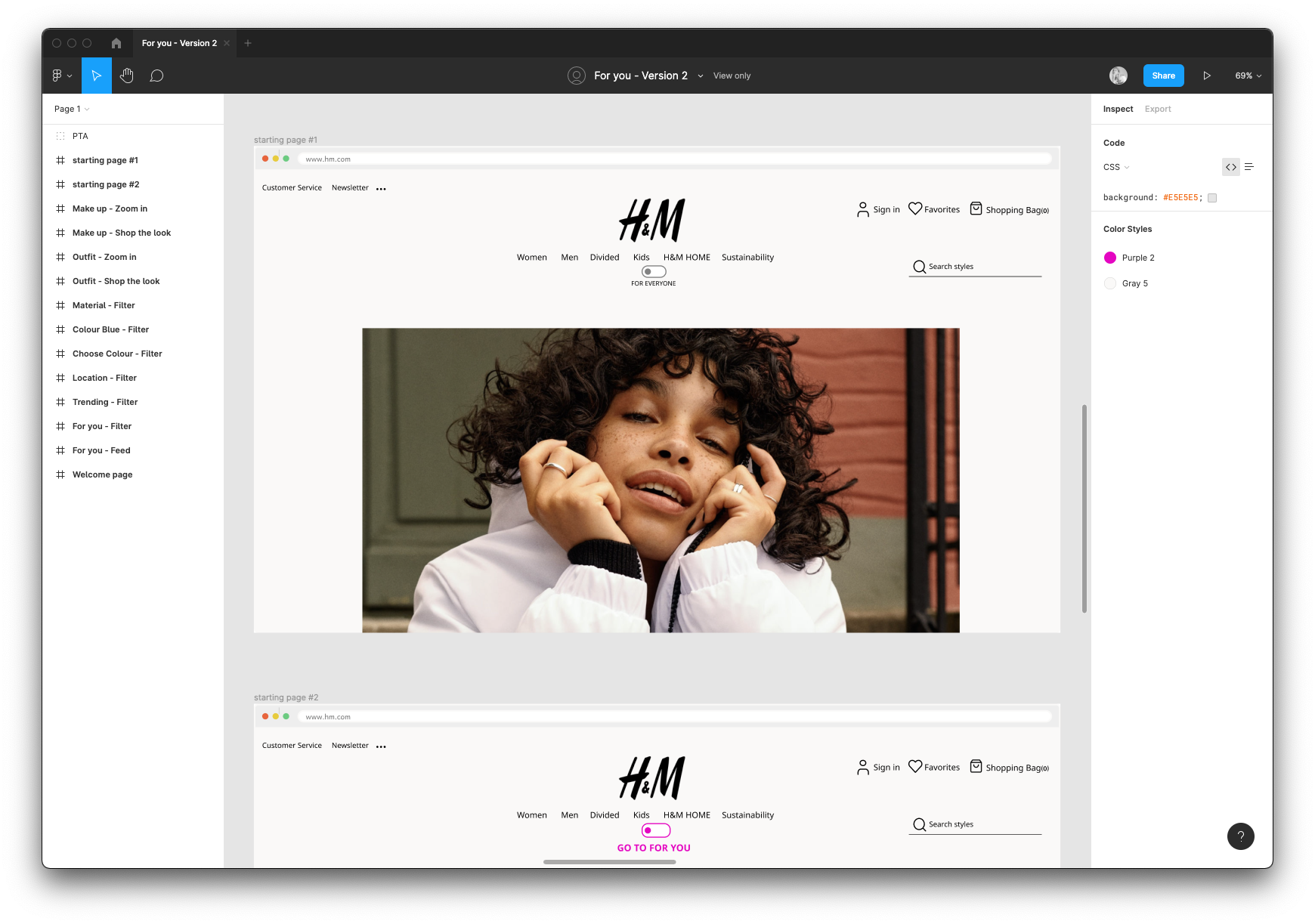 The solution we landed on and presented for H&M group was a 'for you' page, where shoppers could experience user generated content, instead of a very commercial driven view on the products on the H&M website.
We quickly found out that our target audience didn't like to affiliate themself with a specific brand, and highly valued modifying clothes that they bought second hand.
We then went back to the drawing board and condensed down our findings, into quotes and insights we thought were conducive with the problem H&M Group wanted us to solve.
I edited the interviews into short snippets in Adobe Premiere, to document the process, and to create empathy and understanding with the target audience for our client.
---
I facilitated several ideation sessions for the team to come up with ideas to solve problems that H&M group were facing.
A red thread through the research and ideation was individuality, and we landed on a 'how might we' question; "How might we promote individuality when shopping at H&M group stores?".
We then made our own rapid prototypes in Figma based on small ideas, to user test and find further insights.
The project was well received and passed along as inspiration internally at H&M Group.
Synth Bird - Kickstarter Project with Rumtiden Idea Lab
The Synth Bird Kickstarter was a project I worked on together with Håkan Lidbo and Max Björverud at a design agency called Rumtiden Idea Lab.
Rumtiden Idea Lab is an art and design agency, making crazy explorative installations with Arduino, Raspberry Pi and that kind of interactive tech.
The Synth Bird was PCB kit for kids, to learn about circuitry and soldering, while making a little synthesiser for themselves. We worked on the project from mid 2019, until it's launch on Kickstarter in end of 2020.
On January 5th 2021 the project was fully funded, and backers started to receive their kits around May the same year.
---
Link to Kickstarter and Video!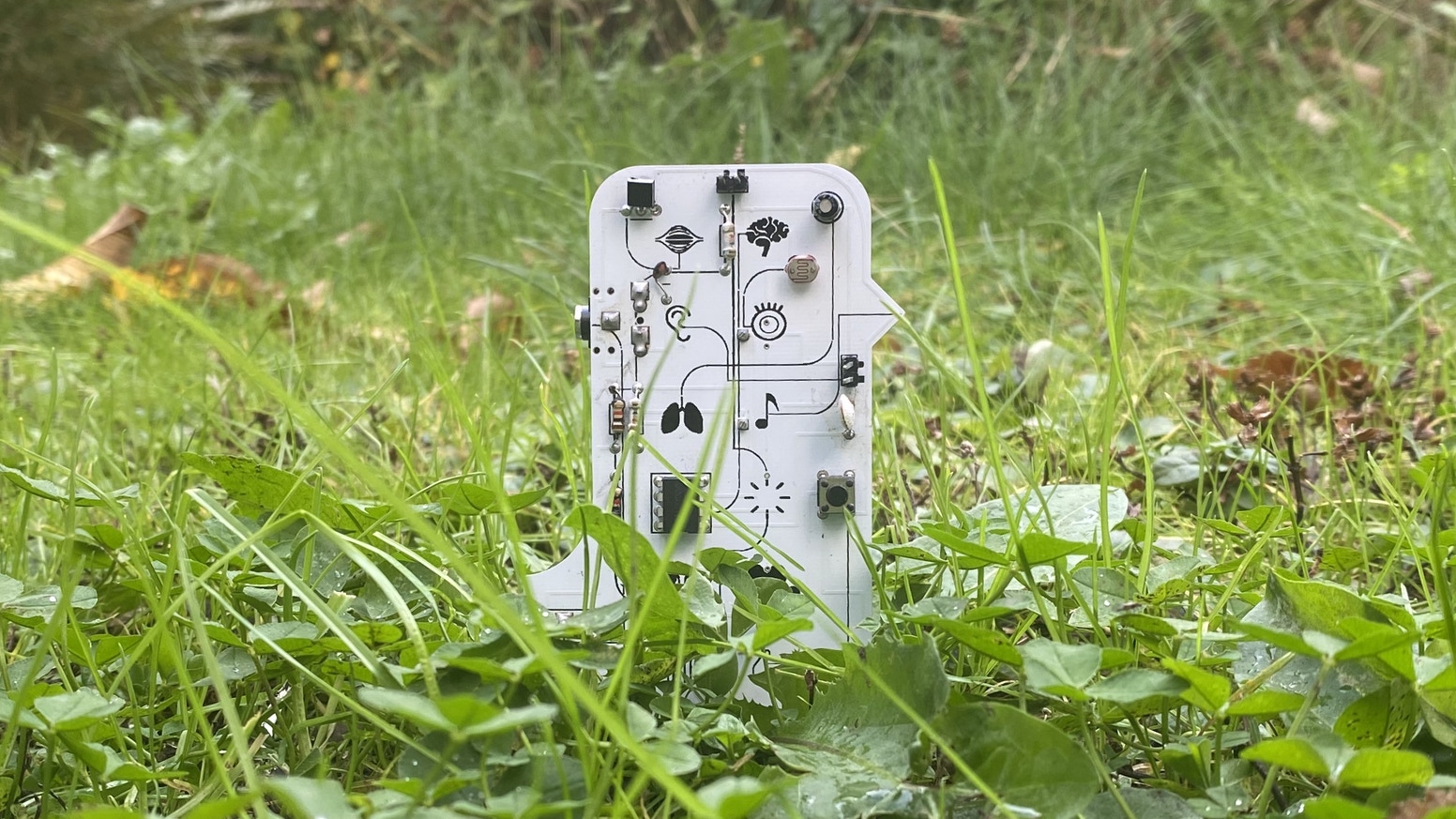 I mainly focused on the video, and I started out by creating a story that made sure to explain the product and intention behind it very clearly. Then I wrote a script together with Håkan and Max, who would be infront of the camera. Then polishing the script by myself, and making a checklist of every shot needed for the video.
The video was shot by me, and was edited in Adobe Premiere, audio engineering was also done in Adobe Premiere. Music was by Håkan Lidbo.
Embodied Dysmorphia - Exam Project at Beckmans College of Design
In 2019 I finished my bachelor's degree at Beckmans College of Design in Stockholm, Sweden. And this project was my incredibly personal graduation project, about body dysmorphia and my relationship to the mirror.
---
In the society we currently live in, we are bombarded with ideal bodies on instagram, in magazines, commercials on youtube, etc. We all are, at least a little, aware of the fact that there's an ideal body shape and size you're supposed to be.
Then, how does the relationship we have to mirrors affect our social norms?
Something that helped me get out of the self destructive cycle of body dysmorphia, was to realize, that no matter how hard I try to analyze myself in the mirror, in photos, in videos, I will never fully be able to tell what I look like. Because a reflection or an image of yourself is not who you are.
---
And according to the philosopher Jean Baudrillard, in our post-modern society a copy of something can become more real, than the real thing itself. He calls this a simulacra.
---
If you've grown up with strawberry flavored chewing gum, and everyone else has as too, and we all agree that this strawberry flavored chewing gum, is in fact flavored like strawberries.
The artificial strawberry flavor might be more real that actual strawberries you pick from a plant. A simulacrum is a copy of something real, but the repeated exposure to the copy makes it more real than the real thing itself.
---
I would argue that, because of how often we photograph and publish images of ourselves on social media, and of how we depend on mirrors to portray an image of ourselves, reflections and images of our bodies are becoming more real than our actual physical selves. Our reflections have become a simulacrum.
---
But what if we break that learned interaction we have with mirrors? If a mirror gives another function than what you'd usually expect, could you have a person relearn their relationships to their own reflection.
---
The experience of exhibiting the project at our graduation exhibition was an incredibly emotional one.
Many thought the mirror was fun and an interesting object. But for some, it really hit deeper, and I was incredibly glad to talk with them. A few shared with me their own personal stories with body image, a few parents shared with me their concerns about their kids growing up with such pressure to look a certain way, all the while their kids were running back and forth in front of the mirror yelling; "Mommy, it's moving! Look!". A few just started to cry, because they felt so moved by the experience.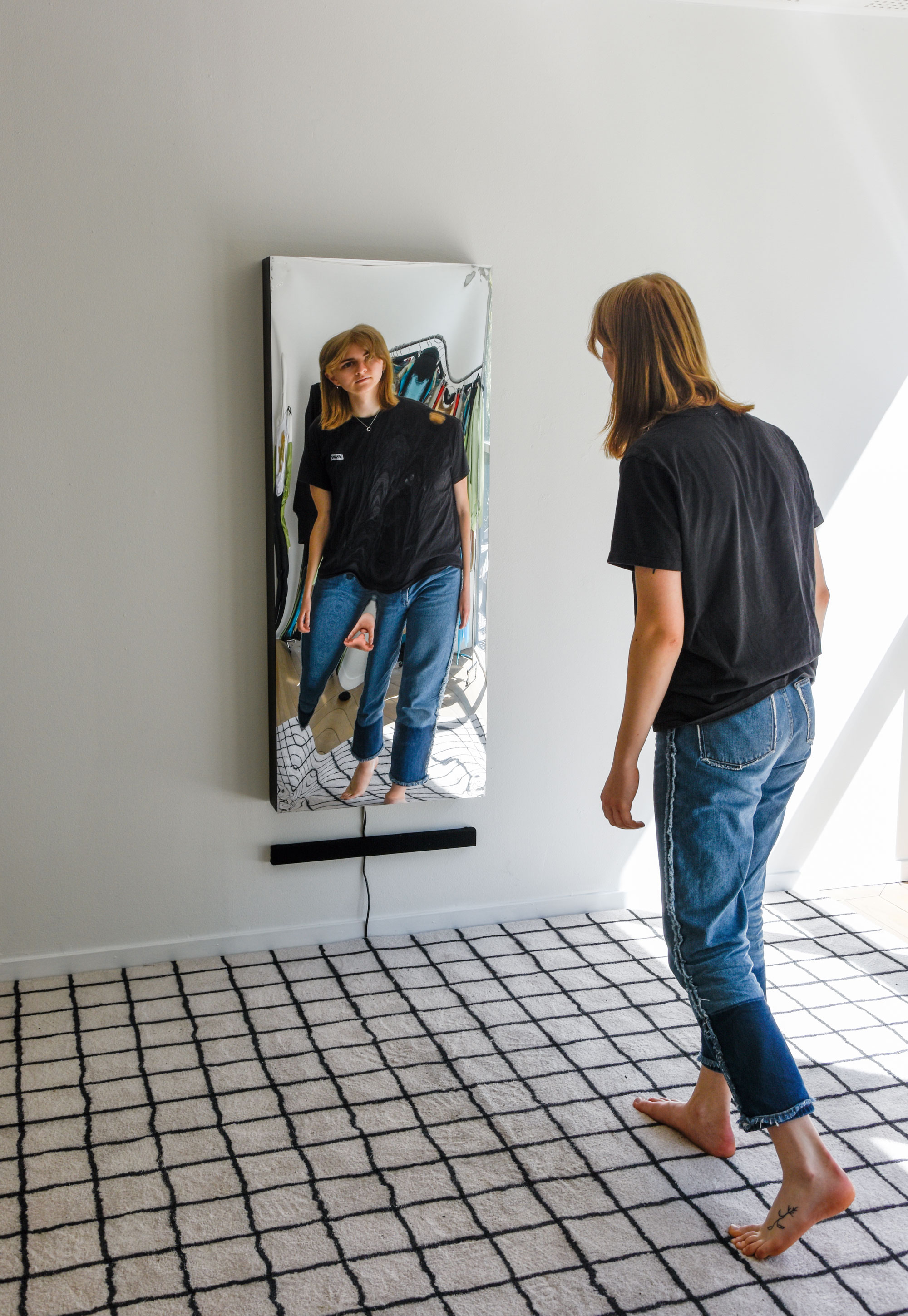 The project was well received by my examinators, and the mirror was exhibited at Studio L2 at Gamla Stan in Stockholm the autumn of 2019 as well as at Beckmans College of Design.